The C J La Trobe Society Inc. was formed in 2001 to promote understanding and appreciation of the life, work and times of Charles Joseph La Trobe, Victoria's first Lieutenant-Governor. Initially appointed in 1839 as Superintendent of the Port Phillip District, then a part of New South Wales, he became the first Lieutenant-Governor of the new colony of Victoria after separation in 1851.
The Society celebrates La Trobe's birthday annually, hosts lectures, special functions and other events throughout the year and distributes the journal, La Trobeana, to its members three times per year. The journal explores different themes in the life and times of La Trobe, aspects of the settlement of Victoria, and other areas of interest to members, and provides information on forthcoming cultural events.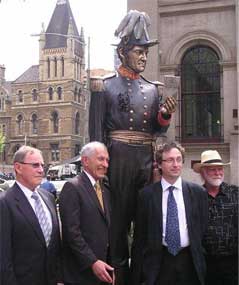 The Society has raised funds to erect a bronze statue of La Trobe on the forecourt of the State Library Victoria. The sculpture was commissioned with Peter Corlett OAM and unveiled by our patron the then Governor of Victoria, Professor David de Kretser AC in November 2006 during the Year of La Trobe. The Society currently facilitates a Fellowship under the umbrella of the State Library's Creative Fellowships Program. The Society set up the Friends of La Trobe's Cottage, to support the National Trust of Australia (Victoria) in maintaining and promoting La Trobe's Cottage.