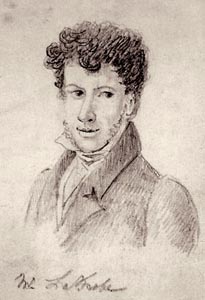 Charles Joseph La Trobe was born on 20 March, 1801, in London, within the sound of Bow Bells, the son of Christian Ignatius and Hannah La Trobe. The La Trobe family was of Huguenot origin, having disseminated around Europe from Montauban in France after the Revocation of the Edict of Nantes in 1685. Christian Ignatius La Trobe, an accomplished musician and composer, and a friend of Franz Josef Haydn, was a Moravian missionary, and a friend of William Wilberforce, the English Member of Parliament who had devoted his life, and his considerable fortune, to the abolition of slavery.
Charles Joseph's education and religious upbringing were in the Moravian faith, a protestant, non-conformist and evangelical denomination which traces its history to the fifteenth-century bohemian brethren in Moravia, a part of what is now the Czech Republic. His artist talent was fostered and encouraged in his youth. As the son of a gentleman, he was given the education of a gentleman himself. Like many of his contemporaries, La Trobe was a gifted artist, a 'sketcher of no mean pretensions', as he was described by his friend the great American writer, Washington Irving. An amateur scientist, he found topography fascinating and endeavoured to represent mountains and other natural features in pencil and water colour sketches to record the character of those countries he visited.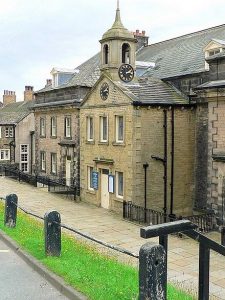 After his schooling and teaching for a time, he left England in 1824 for Neuchâtel in Switzerland where he spent more than two years pursuing his personal interests, travelling and writing. During his time in Switzerland, La Trobe became a keen alpinist and was noted for his skill in crossing the Alps without the help of guides or porters. He wrote of his mountain walks in his first book The Alpenstock.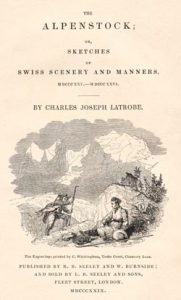 So popular was this work that he rather unexpectedly found himself in the occupation of travel writer. Then, possibly in reaction to the dread of wasting his whole life 'rambling', as he described it, La Trobe enrolled at Magdalene College at Cambridge but it is doubtful whether he ever attended a lecture – and he was soon rambling again in the Tyrol and parts of Italy and Switzerland where he wrote his second book The Pedestrian.
La Trobe next travelled in 1832 with his protégé, Comte Albert de Pourtalès, also of Huguenot descent, on a tour of more than two years in North America. Washington Irving described him as 'a man of a thousand occupations; a botanist, a geologist, a hunter of beetles and butterflies, a musical amateur, an artist; in short, a complete virtuoso…Never had a man more irons in the fire; and, consequently, never was a man more busy or more cheerful'. This tour was an opportunity to meet his cousins, sons of Benjamin Henry Latrobe, the great American 19th Century architect, who was responsible for the redesign and rebuilding of the Capitol Building and the White House after 'the burning of Washington' during the war of 1812 -1815 between the United States and Great Britain. The result was the publication of his next book The Rambler in North America in 1835.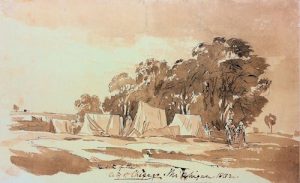 La Trobe in his diary was very observant of the various aspects of the landscape and the environment. He commented on the four major cities on the eastern seaboard: 'New York is the most bustling, Philadelphia the most symmetrical, Baltimore the most picturesque and Washington the most bewildering'. So what else is new! They also visited Chicago where they stayed in the Sauganash Inn, which he described as 'noisy, filthy and vile, with a fat wheezing gin-soaked housekeeper'. La Trobe's sketch in 1832, held in the State Library Victoria's Pictures Collection, is the earliest known view of the environs of that city. They then ventured to Mexico, at that time a wild, disease-infested outpost visited by few Europeans where La Trobe made numerous sketches of the extraordinary landscapes he saw. La Trobe described in graphic detail the terrifying storm at sea between New Orleans and Tampico which was so bad that the boat was 'tossed about like a cork in a boiling pot'. 'The wild half-savage, pirate-looking' crew were so disreputable that La Trobe and Pourtalès jumped ship, leaving behind all their belongings, and swam to shore. Once safe and clad in ponchos and sombreros, they warded off the ever-present terror of cholera outbreaks by breakfasting on tortillas 'with the addition of an agreeable liquor, made from the fermented juice of the sugar-cane'. The book which recorded this tour, The Rambler in Mexico, was published in 1836. La Trobe wrote in an engaging fashion for a readership at home who had no hope of ever visiting such an exotic and far-off land.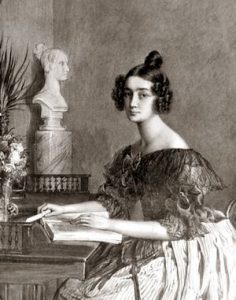 On his return to Switzerland in 1834, Charles Joseph was the guest at the home of Frédéric de Montmollin, a Councillor of State. There, he met Sophie who was the ninth of the Montmollin's thirteen children and a cousin of Albert de Pourtalès. Less than a year later, in September 1835, they were married at the British Legation in Berne. Taking advantage of the many contacts of his well-connected family, he came to the attention of the Colonial Office in London and was offered an official posting of seventeen months in the West Indies. This was the great turning point of La Trobe's life. At this time the British West Indies were in turmoil. More than 750,000 slaves had been emancipated in 1834. La Trobe sent three reports to the British Parliament, with recommendations for providing education for the former slaves, and for dealing with the appalling sectarian divisions on the islands. They so impressed the Colonial Secretary, Lord Glenelg, that in January 1839, La Trobe was offered an appointment in Australia as Superintendent of the newly settled Port Phillip District of New South Wales.
Superintendent        Lieutenant Governor        Later Life        A Reflection        The Artist         The Botanist        La Trobe Letters         Family Tree         Timeline         La Trobe Sites         Video