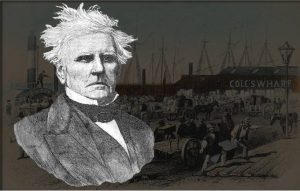 The talk provides a view of early Melbourne life through Captain George Ward Cole, who arrived in 1840 following a career in the Royal Navy during the Napoleonic Wars, and in the merchant marine.
He was prominent in early Melbourne society, controversially marrying into the McCrae family and building one of the first houses in Brighton, St Ninian's. The talk will describe how Henry Dendy came to establish the town of Brighton.
Cole built the first private wharf on the Yarra, known as Cole's Wharf, and developed shipping facilities in Port Phillip, providing sea transport both locally and to other colonies. He was a leader in the development of Victoria and was a respected politician, serving on the Legislative Council for 20 years.
Although he had seven children, none married and his memory died out with them. Now you can rediscover this virtually forgotten patriarch of early Melbourne.

Presenter: John Botham
John Botham is a committee member and webmaster of the La Trobe Society. He spent a career in the RAF and with the Civil Aviation Safety Authority before developing an interest in the history of early Victoria. He assisted with the production of La Trobe's Jolimont, A Walk Round My Garden (2006) and worked tirelessly thereafter to develop an understanding amongst government and the public of the heritage importance of the La Trobe's Cottage. He is currently the Chair of the Friends of La Trobe's Cottage.
Contact John for information and booking.