Wednesday – 14 September, 5.30-7.30pm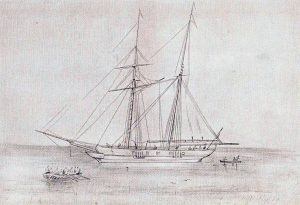 The Lady of St Kilda: a link between the Outer Hebrides and the Antipodes. Speaker John Botham, Chair of Friends of La Trobe's Cottage, who visited the island of St Kilda in June.
This illustrated talk explained how the Schooner Lady of St Kilda connected La Trobe's naming of St Kilda with the remote Scottish island of St Kilda. A second link involved the Barque Priscilla. She carried 36 St Kilda migrants, but only 16 survived the voyage to Port Phillip. Venue: Royal Historical Society of Victoria, Cnr William and A'Beckett, Streets, Melbourne. Refreshments (from 5.30pm). Admission $25 per person.
(La Trobe Society/Friends of La Trobe's Cottage event – guests welcome)