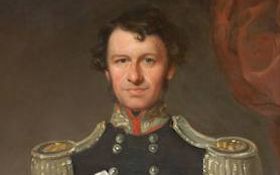 Charles Joseph La Trobe was Superintendent of the Port Phillip District of New South Wales from 1839 to 1851 and then Lieutenant-Governor of the new Colony of Victoria from 1851 to 1854.
'He was a man of a thousand occupations; a botanist, a geologist, a hunter of beetles and butterflies, a musical amateur, a sketcher of no mean pretensions, in short, a complete virtuoso', Washington Irving, 1835.

Presenter: Dianne Reilly AM
Dianne was the La Trobe Librarian at the State Library of Victoria until 2008, and Manager of the State Library of Victoria Foundation's Redmond Barry Society until 2014.
She is an Honorary Fellow of the School of Historical and Philosophical Studies at the University of Melbourne. Dianne has published extensively on La Trobe, was Co-founder of the La Trobe Society and is the Society's Secretary.
Contact Dianne for information and booking.